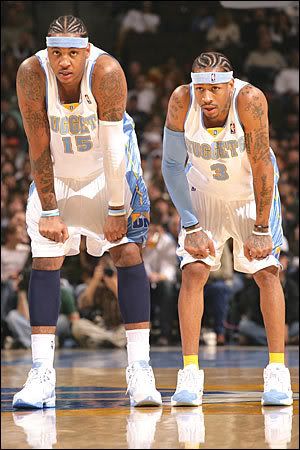 As a Timberwolves fan, I've gotten through this season by focusing my attention elsewhere. There's only so many times you can read about your team getting pantsed before it starts to wear on you. So, instead of soaking in contradictory statements like "We're rebuilding the team" and "We're not trading KG", I get good basketball where ever I can find it. One of the objects of my affection has been the Denver Nuggets. As I have said, I think the trade for Allen Iverson was a wonderful thing for both parties. The results didn't pay out immediately. Denver struggled at times to establish an identity and mesh as a unit. But, things came together at the right time, and the Nuggets hit a good rhythm to finish the year.
However, their match-up with the San Antonio Spurs in the first round had a lot of people talking about next year prematurely. I suppose you can't blame fans for assuming this would be a lopsided series. After all, the Spurs have been there. They're tough to beat, they defend well, and their stars play ugly yet effective basketball. Still, I picked the Nuggets. Why? Idealism, I guess. I don't want to believe that what San Antonio does is inevitable. I'd rather not accept that Manu Ginobli's flailing and flopping is the class of the NBA. I can't resign myself to thinking Bruce Bowen's constant karate chops to the head is beautiful basketball. The part of me that really loves the game wants to see A.I. and Melo still playing in June, not San Antonio's robot army.
So, today, I awake refreshed. For today, at least, idealism has won out. The Nuggets played good enough to win, and did it while having one of their least effective offensive games. Shockingly, they stayed in this one by playing merciless team defense for four quarters. And, when the Spurs made their runs, Denver did not panic. Iverson put them on his back in rough patches, heating up as the game went on. Carmelo had an incredible killer instinct and kept his temper despite the constant Bruce Bowen slaps to the face. Nene and Camby welcomed contact and made San Antonio look disorganized in the post, if not soft. It was an exciting game, and it only left me wanting more.
I don't assume this means the Nuggets have this locked up. The Spurs know what they're doing and will likely reach deep in their bag of dirty tricks for Game 2 and beyond. But, if anything, Denver has established they're not to be underestimated. Hopefully that means we'll be seeing them in the second round.