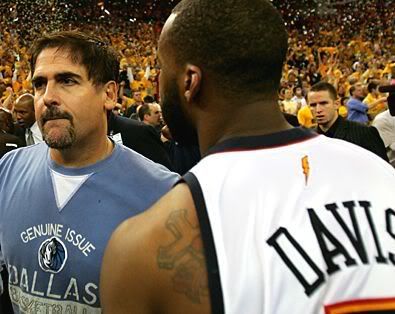 When I was a little kid, the Dallas Mavericks stank. While the Cowboys enjoyed their golden years, the Mavs struggled to string together any wins. This was reality. They seemed perpetually inept and frustrated, and even draft day boons like Jason Kidd could not change the culture of the team. I remember a radio station promotion where a local DJ promised to live at the station until the Mavericks won a game. He was there for a couple weeks at least.
Things are obviously different now. Dallas had its best season in franchise history on the heels of a finals appearance. Mavs fans have adopted the swagger and confidence that they saved for the Cowboys in years past. This year's playoffs was supposed to be the one in which all old ghosts were exorcised. The roster depth was there, and many believed that Avery Johnson was the one that could finally carry them over the hump. But now, as they've exited in the first round against a huge underdog, that dream is deferred for at least another year.
In the interest of full disclosure, I have never been a Mavs fan. My loyalty is with Minnesota, and Dallas's dramatic reversal of fortune was never enough to change that. I can't stand Mark Cuban's ego-driven antics. I've come to believe that as much as he does to support his team, he does much more to undermine them. And, I've never bought the idea that Dirk Nowitzki is a franchise player. Despite his incredible skill as a scorer, Dirk's defense, intensity, and leadership have always been lacking. Nowhere was that more apparent than last night in Oakland. When it came down to it, Dirk's team needed him, and he disappeared.
But, it'd be a mistake to think of this just as a series that the Mavericks lost. The Golden State Warriors won, and earned it. They survived repeated spurts of terrible officiating that kept their best players out of the game. They fought through injuries. They played a shallow rotation with a small forward at center and showed no fear whatsoever. The Warriors simply refused to lose. They took shots that defied all logic and made them. They played with such intensity and drive that you couldn't help but be pulled in. Golden State played like the higher seed. They believed in themselves and now they've won what will probably end up being the most memorable series in the playoffs, if not the decade. I feel lucky to have gone along for the ride.