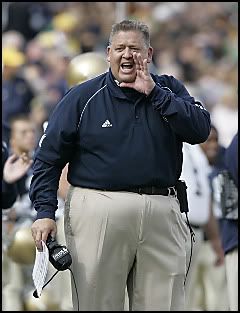 In a wonderfully entertaining turn of events, Notre Dame is horrible. I mean, granted, I was convinced they were horrible for a while now, but they've taken it to another level. For the first time in their 119 year history, the Irish are 0 and 4. It was wildly speculated that there'd be some rebuilding after Brady Quinn and, um, those other guys left, but nobody, even me, dared to dream this big. They stink. This week, they scored two offensive touchdowns, and that was cause for celebration:
even though they lost by 17
.
Rumblings about big ol' Charlie losing his job have already begun. This, a couple years after South Bend tripped over themselves to give him a ten year extension. I'm giddy. It infuriated me to no end to see Ty Willingham shown the door the way he was. Then, it drove me up the wall hearing the calls for Brady's sainthood when he'd yet to win a meaningful game. I'd get a lot of satisfaction watching them get walloped in every bowl game they play. But now, it's a question whether they'll even make it to a bowl game. And, it feels
so good
.
I don't dislike Notre Dame on principle. I'd be fine with them if they belonged to an actual conference, didn't pad out their schedule with cupcake opponents, and didn't expect a bowl game slot on principle. A couple more seasons like this one, and maybe that will happen. Maybe.