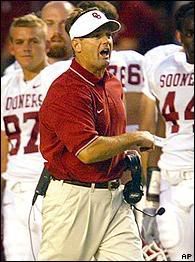 I wish they'd mic him up for at least one game; the number of bleeps would be collossal.
Kid Rock, you're a faker. When I think of true American Badasses, your name does not come up. Bob Stoops, however, often does. I have yet soee a more ballsy and effective coach in college football. Watching him work against Nebraska last night in the Big XII championship, I couldn't help but be excited about the possibility of seeing him coach in the NFL one day. Sure, coaches who are great in the NCAA but fall flat in the pros are a dime a dozen. But his attitude, his poise, his youth, and his fearlessness makes me think there's no way he couldn't succeed if he put his mind to it.
I have mixed feelings about admitting this because I'm a diehard Texas Longhorn fan. And, I love Mack Brown. He brought us Vince Young (who's blowing up in the NFL right now, more on that later), and then a national championship. But he's more like a friendly grandpa than a fiery badass. When I see Mack upset on the sidelines, he seems to be pouting: like someone just took away his drivers license. When Bob gets upset, he's a tornado. Cursing up a blue streak (I'm sure), getting in the face of referees, and screaming at players. But he doesn't seem like a bully. He just wants his behavior to reflect his passion for the game.
Enduring defeats by the Sooners for the duration of my college career taught me to respect the man. Fourth down and one? Fuck it, let's go. Like I heard him say after the A&M game, "If we can't move a few inches, we don't deserve to win." Then he gets robbed by two ridiculously bad calls in one game: doesn't matter, he still takes the division. He loses his best player and his quarterback within a season. Most teams would be dead, but he put it together anyway. This man will just not go away. And if not for that goofy officiating in the Oregon matchup, we'd be talking about whether they deserved a shot at the title. So, I tip my hat to you, Robert A. Stoops, American Badass. Thank God we only have to play you once a year.